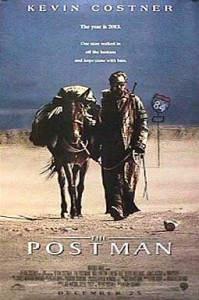 The Postman memang film yang breath taking, aku sempat menahan nafas beberapa kali menonton film ini. Settingan film ini diambil pada tahun 2013 dimana pada masa itu dunia sedang dilanda kekacauan, tidak ada teknologi di muka bumi ini, dan tidak ada hope (harapan).
Demi mendapatkan makanan dan tempat teduh, seorang pelarian menyamar menjadi postman (tukang pos) yang diperankan oleh Kevin Costner. The Postman berpura-pura mengirimkan surat ke sebuah kota yang bernama Pineview, Oregon. Di sana dia memberitahukan kondisi Amerika, nama presiden Amerika, tentunya semua itu rekayasa dan mereka percaya. Mereka menitipkan surat-surat kepada The Postman untuk dikirim kepada saudara-saudara mereka.
Di kota itu juga The Postman mengangkat seorang anak bernama Ford Lincoln Mercury menjadi postman. Ford memainkan peranan yang sangat penting dalam penyebaran semangat postman. Bahkan Ford membentuk kantor pos sendiri dan merekrut postman baru.

I'm a representative of the United States goverment. Authorized by Order 417 of the Restored Congress to reestablish communication route in Idaho and lower Oregon. I'm your postman.

The Postman bergerak ke kota lain untuk mengirim dan mengambil surat. The Postman juga menyebarkan hope. Padahal semua itu fiktif. Tapi semua percaya. Dan akhirnya The Postman juga percaya dengan stuff is getting better every day. Penyebaran spirit postman sangat cepat sampai ke state-state yang lain sehingga pemimpin Holnist, Bethlehem, merasakan The Postman sebagai ancaman.

Neither snow nor rain nor heat nor gloom of night stays these couriers from the swift completion of their appointed rounds. By my authority you're now empowered to carry the mail. Congartulations. You're the postman.

Terkadang The Postman merasa kehilangan semangat karena satu persatu teman-temannya mati dibunuh oleh Holnist. Dan dia memutuskan untuk membubarkan US Postal Services dan pergi ke St. Rose. Dalam perjalanannya mengantar The Postman sampai ke Bridge City dan melihat dia masih dikejar oleh Holnist dan dia sadar bahwa semuanya belum berakhir, dan masih besar harapan yang diberikan kepadanya. Akhirnya The Postman bangkit kembali dan memberikan perlawanan terhadap Bethlehem.

You give our hope like it was candy in your pocket.

Aku tidak suka karakter Bethlehem sebagai bos Holnist, dia terlalu senang membunuh, kalau seorang pemimpin terlalu kejam dan senang membunuh akan berakhir di tangan anak buahnya sendiri. Jadi penjahat pun harus punya etika kalau mau terus menjadi penjahat. Kalau tidak dia pasti akan menjadi mayat.